Structure of the SCHR
Organisation chart of the SCHR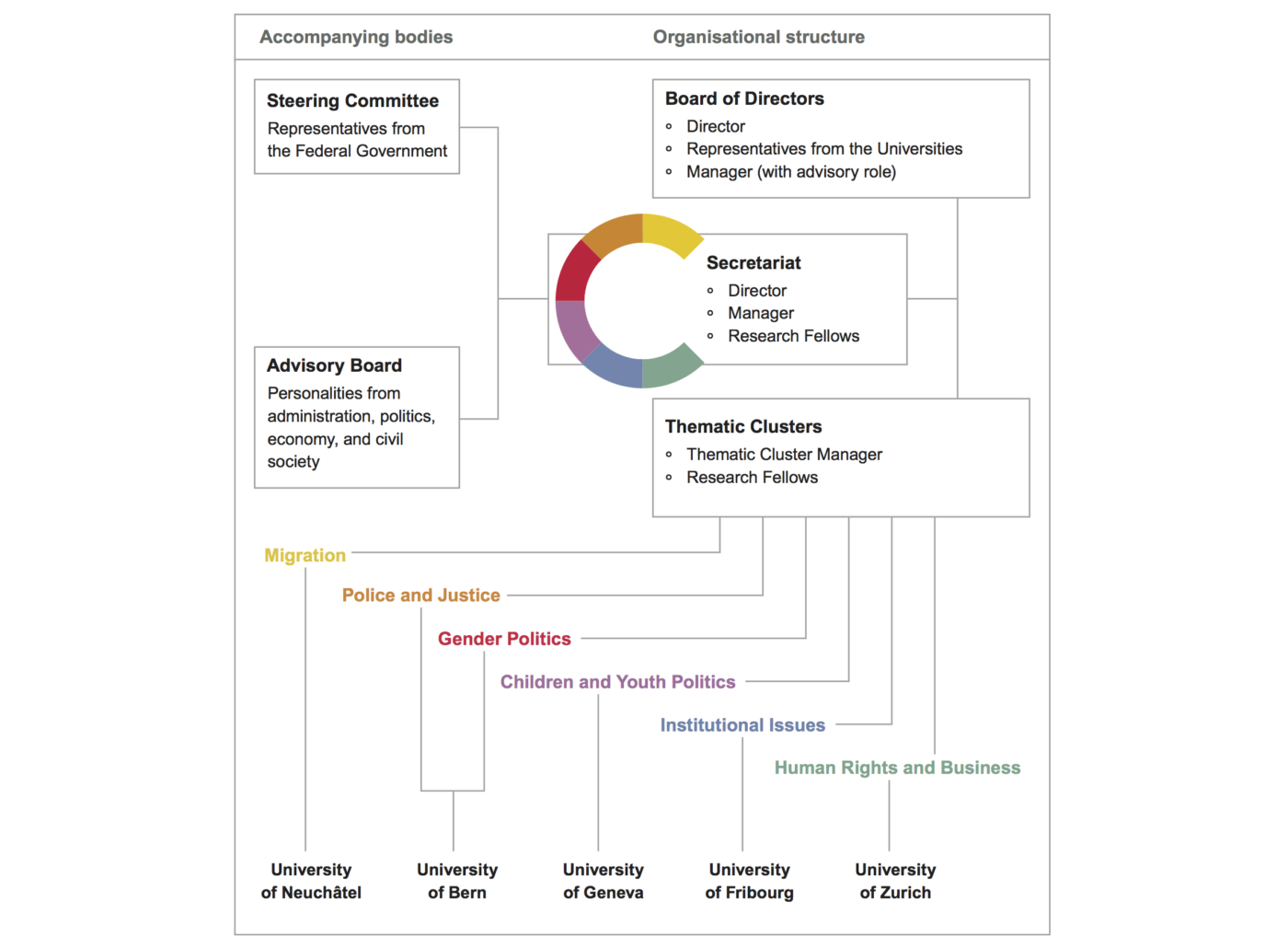 > Download the organisation chart (PDF)
Structure of the SCHR
The SCHR was structured as a university network. Part of it were the Universities of Bern, Fribourg, Geneva, Neuchâtel and Zurich. From 2011 to 2015, the association humanrights.ch and the University for Teacher Education of Central Switzerland in Lucerne (PHZ Lucerne) were also part of the network. The representatives of the partner universities together formed the Board of Directors, whose function was to determine the strategic orientation of the SCHR and to decide on annual budgets and work programmes.
At the end of 2022, the Board of Directors was composed of the following persons:
Jörg Künzli, University of Bern (Director)
Judith Wyttenbach, University of Bern
Michèle Amacker, University of Bern
Pascal Mahon, University of Neuchâtel
Denise Efionayi-Mäder, University of Neuchâtel
Philip D. Jaffé, University of Geneva
Michelle Cottier, University of Geneva
Christof Riedo, University of Fribourg
Eva Maria Belser, University of Fribourg
Christine Kaufmann, University of Zurich
Francis Cheneval, University of Zurich
From 2011 to 2015, the Board of Directors was also composed of the following persons: Walter Kälin (former Director), Gianni D'Amato, Peter Hänni, Peter Kirchschläger, Thomas Kirchschläger, Brigitte Schnegg, Alex Suter and Hans Peter Wehrli.
The SCHR's Secretariat was located at the University of Bern. The administrative directors were:
Evelyne Sturm (2013-2022)
Serap Akgül (2013-2014)
Anne-Gret Nielsen (2011-2012)
The Secretariat coordinated the activities of the SCHR's Thematic Clusters attached to the partner universities.
Accompanying bodies
As a pilot project of the Swiss Confederation, the SCHR was financed and supervised by the Confederation. A Steering Committee composed of representatives of the Federal Department of Foreign Affairs (FDFA) and the Federal Department of Justice and Police (FDJP) approved the annual service contracts and monitored the use of the core funding.
> More information on the service contracts and the Confederation's funding
The Board of Directors was also supported by an Advisory Board. It was composed of personalities from the administration, politics, civil society and the economy and advised the Board of Directors on its strategic orientation. The Advisory Board was presided for the duration of the SCHR by Eugen David, former member of the Council of State of St Gallen. The Vice-President was Doris Angst, an expert and former Director of the Federal Commission against Racism (FCR).
> List of members of the Advisory Board (PDF, 2 p.)
> Internal regulations of the Advisory Board (PDF, 4 p., in German)